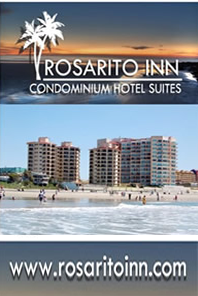 Rosarito Inn Condominiums tops our list of the best hotel in Rosarito Beach. You get all the convenience of a hotel in Rosarito, while enjoying the comfort and surroundings of a fully furnished 1-4 bedroom condominium overlooking the ocean. Friends and family get to stay together and share this experience, and save a bundle on the cost of individual rooms.
The Rosarito Inn Hotel is located on the beach, next to Papas & Beer and convenient shopping and dining experiences. Rosarito Inn Hotel has their own restaurant, Oceana Grill and Cafe, with delicious Mexican and American specialties for breakfast & lunch.
This Rosarito hotel has such amenities as high speed internet, beach front condos, all kitchen appliances, washer/dryer...
Read More