Rosarito Inn Condominium Hotel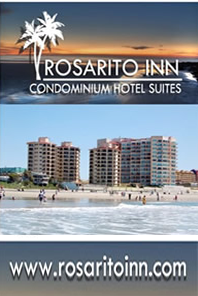 Rosarito Inn Condominium Hotel tops our list of the best hotel in Rosarito Beach. You get all the convenience of a hotel in Rosarito, while enjoying the comfort and surroundings of a fully furnished 1-4 bedroom condominium overlooking the ocean. Friends and family get to stay together and share this experience, and save a bundle on the cost of individual rooms.
The Rosarito Inn Hotel is located on the beach, next to Papas & Beer and convenient shopping and dining experiences. Rosarito Inn Hotel has their own restaurant, Oceana Grill and Cafe, with delicious Mexican and American specialties for breakfast, lunch, and dinner.
This Rosarito hotel is the only hotel in Rosarito that has such amenities as high speed internet, beach front suites, all kitchen appliances, washer/dryer, business center, fitness center, private beach access, secure gated entrance with 24 hour surveilance, purified drinking water, and each condo is uniquely furnished.
Rosarito Inn Hotel is close to all tourist attractions and next to Papas and Beer. Enjoy activities such as a stroll on the beach, shopping, night clubs, ATV riding, horse back riding, surfing, swimming, and at the end of the day, enjoy the beautiful sunset from the balcony of your ocean front suite.
Rosarito Inn hotel has suites available for short and long term rentals. Come for the weekend, vacation, or to retire in Rosarito. Business travellers will appreciate the fully equipped business center and Rosarito Inn's own transportation service to and from work and to local attractions and shopping.
Website: www.rosaritoinn.com
Family Friendly: Cribs , Highchairs available
Number of Rooms: 163
Swimming Pools: 1 & Children's Wading Pool
Restaurant: Oceana Grill and Cafe
Location: Blvd Benito Juarez #907-24
Telephone: Toll Free (888) 849-4500
Telephone: Direct 011-52 (661) 612-2841