Hotel Don Luis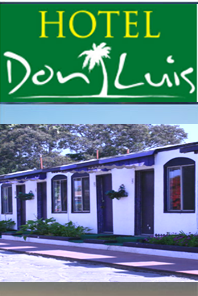 Posada Don Luis is further down the main street from tourist attractions. Rooms are pretty good size, though the front rooms are noisy, with a bar next door. Still, it is a cozy place and if you stay in one of the back rooms, you can avoid the noise and have a romantic getaway pretty much to yourself.
To get to the beach from Posada Don Luis, you have to go across the street, but still close enough. The price is good and the location is convenient. The pool is clean. Overall,our experience was ok but we went during a time when there were not many people there, and it wasn't as "happening" as we had hoped. Only five minutes from nightclubs by taxi, so it really depends on what you are looking for.
Hotel Don Luis is family owned and operated and was one of the first hotels in Rosarito. Tall trrees over shadow the rooms and grass covered areas. Spanish tiles lead back to the pool area.
Hotel Don Luis is a nice hotel for a nice price. Built by Luis Lopez with his own family in mind.
Website: Hotel Don Luis
Family Friendly: Family owned & operated
Number of Floors: 2
Swimming Pool: Yes
Restaurant: On site w/ Room Service
Location: Blvd Benito Juarez #227
Telephone: 011-52 (661) 612-1166
Fax: 011-52 (661) 612-1166