Las Rocas Resort & Spa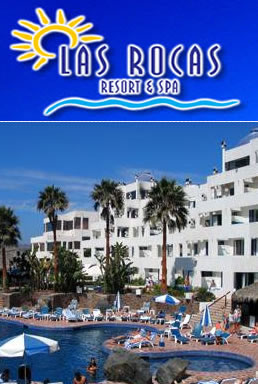 Las Rocas Resort & Spa is located at Km 38.5 south of the main part of Rosarito. Las Rocas is a little bit of a drive, but the resort was well worth the trip for us. Las Rocas has two outdoor swimming pools, two restaurants, a full-service spa, and a poolside bar. Las Rocas made us feel at home, so we hardly got away to spend time in Rosarito. This was a great romantic getaway, and that is what we were looking for on this occasion.
The view was perfect. The rooms... could have used some serious upgrades and a little maintenance. Not quite as comfortable as we would have liked, but the staff relocated us to the penthouse and that was much better. Still, we found many other hotels in Rosarito with much better furnishings. We did venture out to Puerto Nuevo Lobster Village, as it is very close by and of course this world famous lobster did not disappoint us. The atmosphere in this village is one you have to experience for yourself.
Las Rocas Resort & Spa has beautiful grounds that would make for a lovely wedding. With their own restaurants, El Meson and Cafe Del Mar, as well as La Palapa Bar and Bar Ole, we're sure the catering of the event would be well in hand. The holistic spa is something you can plan a whole day around as they spend time revitalizing your whole body.
All in all, we had a good time at Las Rocas. Beautiful view with gorgeous sunsets. We just wish the rooms had been a little better kept, but this is the slow season in Rosarito. It is nice to see all the Christmas decorations and the feeling of the holidays all around.
Website: www.lasrocas.com
Spa: Health Spa, Sauna, Beauty Service
Room Service: Limited Hours
Swimming Pools: 2 outdoor pools
Restaurant: Two in Hotel
Location: 3850 Carretera Libre
Telephone: Toll Free (800) 788-5648
Telephone: Direct 011-52 (661) 614-9872 - 79