Rosarito Beach Hotel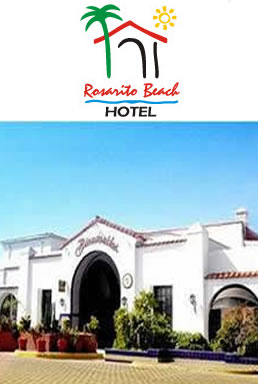 This is the famous Rosarito Beach Hotel. This is one of the oldest hotels in Rosarito, which opened in 1925. The Rosarito Beach Hotel has had many famous guests over the years, so expectations were high. Our experience with this hotel was pleasant, though we felt like the hotel was understaffed in that things moved rather slowly. After finally checking in and getting to our room, we foudn the room to be very spacious and our view over the ocean was very nice There are many shops at the entrance to the hotel and they have a very nice restaurant, Chaberts. Again though, be prepared to spend some time waiting in the restaurant.
The Rosarito Beach Hotel has a nice full service spa and the kids can play on arcade cames, pool table, or swim in the pool. We stayed in the older part of the hotel and hear that the newer towers are nicer. Our stay was a little noisy and carpets could have used some attention. However, the spring time in Rosarito can be very busy and some details will always be overlooked.
We enjoyed strolling down the pier and along the beach and had a good time overall. The balance of price and service were good as they have a lot of promotions and we took advantage of one of those. However, since this is a hotel review, we were not impressed with our room. It was ok, we were hoping for something really nice to live up to the hype of such a famous hotel.
Website: Rosarito Beach Hotel
Family Friendly: Games & Pool
Number of Rooms: 500
Swimming Pool: Four
Restaurant: Chaberts
Location: Blvd Benito Juarez #31
Telephone: 011-52 (661) 612-1111
Fax: 011-52 (661) 612-1125