Los Pelicanos Hotel and Restaurant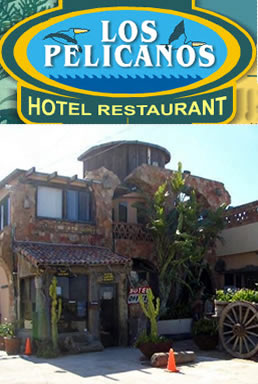 Los Pelicanos Hotel and Restaurant was one of the more unique hotels we visited. We found this hotel to be very charming and located right on the beach down one of the side streets near the center of town. To be fair, we must say we visited during off season, so things were much slower paced in Rosarito than what they are in the summer months. The service was a little slow and things were not as tidied up as we are sure they usually are, but the Los Pelicanos was a very simple and charming spot on the beach.
Los Pelicanos has a nice restaurant and bar, where we thoroughly enjoyed a nice margarita in a pleasant atmosphere. We sat outside on the second floor terrace that overlooked a beutiful sunset over the Pacific Ocean. The menu has some very interesting choices, including quail, lamb, and deer, as well as the customary Mexican dishes we all appreciate. Our steak was very nicely done for us, though it took a while.
Los Pelicanos has a nice spa from what we are told, but we didn't have a chance to take advantage of this. The landscaping of this Rosarito hotel gave us a cozy feeling that was somewhat layed back compared to what we were used to, but that is part of the charm of this hotel.
Website: www.lospelicanosrosarito.net
Family Friendly: Located on the beach
Rooms: 39 rooms and 7 suites
Spa: Spa Services & Jacuzzi
Restaurant: Mexican w/ Room Service
Location: Cedros #115
Telephone: 011-52 (661) 612-0445
U.S.A. Phone: (619) 780-8741