Brisas del Mar Hotel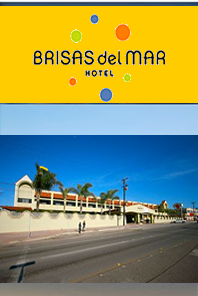 Hotel Brisas del Mar is located on the east side of Blvd Benito Juarez, about three blocks to the beach. This Rosarito hotel is a popular spot for those seeking to stay away from the beach goers and those that desire more modest accommodations. To us, it takes away from the whole experience of coming to a beach front community, by staying in a hotel that is off the beach, but to each his own.
Hotel Brisas del Mar is a two story hotel with very well maintained parking and pool area. The hotel is on the main street, so there is plenty of shopping and dining pleasures all near by. This hotel is about 5 blocks from the main tourist area of town, but certainly within walking distance. We had a nice stay here, as it wasn't too busy then. We just felt a little disconnected by having to coordinate our beach attire with the walk down to the beach, but we managed.
All in all our stay at Hotel Brisas del Mar was typical of a Motel 6 in the states with added amenities of Mexican hospitality. Comfortable, clean rooms at a reasonable price. If that's what you are looking for in a hotel in Rosarito Beach, then you will have a very nice stay at Hotel Brisas del Mar.
Website: Brisas Del Mar
Family Friendly: Babysitter Service
Room Types: 71 Standard or double bed
Spa: Outdoor Pool & Spa Tub
Restaurant: Room Service
Location: Blvd Benito Juarez #22
Telephone: 011-52 (661) 612-2547
Telephone: Toll Free (888) 871-3605