Festival Plaza Hotel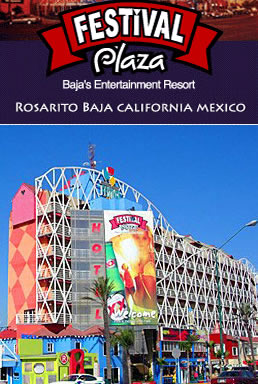 Festival Plaza Hotel is on Rosarito's main street, Benito Juarez, about a block from the Rosarito Beach Hotel to the south and one block east of Papas and Beer. This Rosarito hotel is designed around a carnival atmosphere. We remember fondly the days of when this hotel first opened and how they would have live entertainment, ferris wheel rides, and artisans and mom and pop vendors in the court yard. Sadly though the place is not quite the same any longer. The rooms are ok, but no frills, no air conditioning, and close to all the clubs, so can be noisy for some people, though the younger crowd will like this.
You can look out over the Blvd Benito Juarez on one side and out towards the ocean on the other side. Festival Plaza is on the boulevard, so it is a couple of blocks from the beach. However, we stayed on the eigth floor, so easily overlooked the ocean. Festival Plaza has a good staff that try to please their guests and went out of their way to make us comfortable.
If you are looking to party in Rosarito, then Festival Plaza hotel would be a decent place to stay. However, if you are looking for a romantic getaway or a nice beach front property, there are better choices in our reviews. That said, the rooms are clean and you have a nice place to hang out with friends after an evening of partying.
Website: www.festivalplazarosarito.net
Family Friendly: In-room Child Care
Rooms: 203 rooms
Spa: Health Club & Spa Tub
Restaurant: Hotel bars / lounges
Location: Blvd Benito Juarez 1207-1
Telephone: 011-52 (661) 612-2950
U.S.A. Phone: (800) 453-8606