Calafia Hotel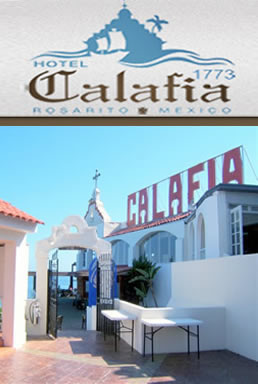 Calafia Hotel and Restaurant is a place you really should see while in Rosarito. Calafia is just past the Baja Studios, where the movie Titanic was filmed, and one of their dining rooms is decked out in the fashion of the Titanic dining room. The Calafia Hotel was part of the old Mission San Diego that was founded bakc in 1769. Their is a mini museum and gift shop that honor this heritage. All of this is built right onver a cliff on the edge of the ocean, with amazing views and the waves crashing into the side of the cliff.
We love the restaurant and the dining atmoshpere. However, ther eis no ocean access. However, this review is of the hotel and while looking for the best hotel in Rosarito Beach, this one fell short. The property is seriously in need of maintenance. Walkways are rough and the rooms were dirty, and in poor condition. Very basic beds, TV didn't work, rusty plumbing with patching needed on the walls.
Calafia would be a lovely place to have a wedding or any other major event with a huge dining area and beautiful views. However, we would be concerned about our guests comfort . Some of our party reported that their rooms were ok, so perhaps we just got the worst of it and we really hope so, as we want to like this place for the rooms, as well as the natural beauty. It is not uncommon to see whales and dolphins out in the ocean from Calafia, and seagulls abound with a few morsels from dinner.
Website: www.hotel-calafia.com
Restaurant: On the ocean cliff
Number of Rooms: 80
Views: Full beauty of Pacific Ocean
Location: Km 35 south of Baja Studios
Telephone:USA (619) 739-4343
Telephone: Direct 011-52 (661) 614-9815